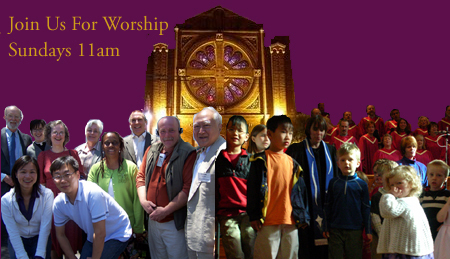 Church Newsletter | Sermon Index
Old First Presbyterian Church is an inclusive community of faith united by trust in God and faith in Jesus Christ. We warmly welcome all who accept and respond to God's saving grace in Jesus Christ and who desire to participate in the life and ministry of this church.
Established in 1849, we are the oldest active Protestant congregation in California. We are constantly renewed through a wide spectrum of activities, and of course, through new members and visitors.
Maggi's Musings - November 2014
We are a singing people. Psalm 96 reads
O sing to the Lord a new song;
sing to the Lord, all the earth.
Sing to the Lord, bless God's name;
tell of God's salvation from day to day.
I am struck by these words that remind me singing is in our faith DNA. And so is constantly learning to sing a new song. As you have heard in previous editions of Shared Life and in worship at Old First Presbyterian Church, the Presbyterian Church (USA) has "a new song" for this century: the new (purple) hymnal called Glory to God.
The process leading to this new hymnal began in 2004, when the General Assembly appointed a very wide-ranging Presbyterian Committee on Congregational Song – a committee including musicians, clergy, elders, church members of all ages and from all over our denomination. The committee sang each of the 10,000 submitted or suggested hymns. The choices were narrowed down and sent to congregations all over the USA for a test-run and feed-back. (Seventh Avenue Presbyterian in San Francisco's Inner Sunset was one such testing ground.) Over 850 pieces of old and new music were selected.
In June this year our worship committee recommended that we purchase the new hymnal, but put off the final decision till September so Pam Byers could introduce the hymnal to the session. Pam wasn't able to be there that night but sent her written thoughts which began with a bit of history:
The Bay Psalm Book, printed in Cambridge, MA in 1640, was the first printed book produced in British North America. Because psalms played such an important role in Calvinist and Puritan worship, several other (European) psalm books were also in circulation in the colonies. Early congregations used whichever they preferred. Finally, in 1819, the PCUSA GA approved appointment of an official hymnal committee; and in 1831 Psalms & Hymns Adapted to the Public Worship became the first official Presbyterian hymnal. Later hymnals were published in 1874, 1895, 1933, 1955, 1972, and 1990 – our current blue book.
I heard Pam gently reminding us that singing and learning a new song or using a new hymnal was a part of our history, our way of being.
Pam admitted in an E-mail that "I actually love hymnals and because I am slightly crazy. I compared Glory to God to our current (blue) hymnal." She had actually developed a spread sheet where she showed that almost every hymn which we sing at Old First is retained in the new hymnal. She further wrote about some of the features of Glory to God:
Many new spirituals, psalm-setting for almost every psalm, including all lections, settings for every lectionary text… This is a source of many new-to-us hymns, music from six continents, lots of new Christmas/Advent hymns – ditto Easter, numbers of good "praise" songs that I have heard succeed in various settings. Lots of new (to hymnal and to me) communion hymns & responses, that I hope we will try. Various hymns I like a lot, have sung at conferences and are not in the blue hymnal, 60 responses including our usual and MANY good ones to try.
It is no surprise that the session voted to approve purchasing the new hymnal. It will not replace the blue hymnal, but will add to our options and will be placed on the pews. While there are funds to purchase some new hymnals (left over from when we bought the blue ones) the session directed that that the congregation be given the opportunity to buy new hymnals for twenty dollars each for the church. Many are given in memory or in honor of our loved ones. Session members shared how they often look in a hymnal and remembered the saints who are in our midst and those who had gone before us.
Your first opportunity to purchase hymnals will be at the mission fair on November 23. We are just beginning this venture, so we need a team of people to help… just as people did when we bought the blue hymnal twenty-five years ago. Please speak to Linda Ryder, Horngsheng Tu or me to help.
Peace, Pastor Maggi
P.S. As I write this just before All Saints' Day, I find myself grieving the death of Pam Byers and thanking God for her witness and life among us. I trust that now she indeed "sings a new song to the Lord" in the church triumphant. MH