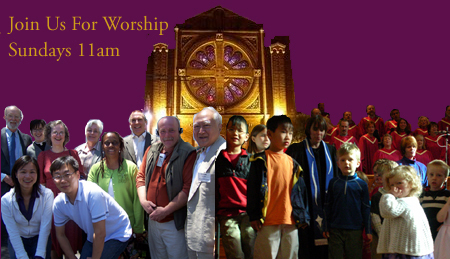 Church Newsletter | Sermon Index
Old First Presbyterian Church is an inclusive community of faith united by trust in God and faith in Jesus Christ. We warmly welcome all who accept and respond to God's saving grace in Jesus Christ and who desire to participate in the life and ministry of this church.
Established in 1849, we are the oldest active Protestant congregation in California. We are constantly renewed through a wide spectrum of activities, and of course, through new members and visitors.
Maggi's Musings - March 2015
This year as we move into Lent and prepare for One Great Hour of Sharing, I remain grateful for the transformations made possible through this special offering. In places like Kitui, Kenya; Asheville, North Carolina; and Iona, Michigan, those most in need are finding hope and help through the work of Presbyterian Disaster Assistance, the Presbyterian Hunger Program, the Self-Development of People program, and their partners in ministry. In this media-driven environment of "the next big story," it is easy to be distracted from the reality faced by our brothers and sisters around the world where poverty, disaster, and war cause displacement and suffering.
This is why we continue to give to One Great Hour of Sharing (OGHS). When we give this year, we give in faith—assured that staff in the three OGHS programs will respond in Christ's name to the cries of our sisters and brothers throughout the next year. We trust that they will respond as they did in West Africa in the wake of the devastating Ebola crisis: immediately, directly, and through local partners wherever the emergency occurs. But equally important, we know that they will remain in those areas long after the news cameras have moved elsewhere, and stay with local people as they continue rebuilding lives and communities.
Feeding the hungry, helping people build up their own livelihoods, responding to disasters—these are all ways that your gifts to One Great Hour of Sharing change lives, communities and the world. You will hear more about the offering in worship on during March.
That brings me to the challenge, which also relates to our support of One Great Hour of Sharing. While we trust our OGHS programs to respond to the needs of our poorest and hungriest neighbors, those programs can only do so to the extent of our generosity. I challenge each of you to take a "fish box" found in the narthex. As you put coins or bills in, take time to offer prayers of thanks and of concern for others. You might give thanks for a kindness shown to you. You might say a prayer for whatever group or individual is in the news. This can be one of your Lenten spiritual practices. Then on Easter Sunday add to our special offering through OGHS. You can use the special envelope in the bulletin and place it in the offering plate that day or mail it to the church. Make sure you write clearly on your check or envelope that it is for OGHS. Start dropping your coins and bills in your fish box and consider increasing your gift to the offering—you'll see how giving opens your heart to God's work in your own life.
I hope you will join us April 5 for Easter Sunday worship and that you will join Christians all across the country in opening their hearts to witness tangibly to the abundant love of God through One Great Hour of Sharing.

Peace, Maggi