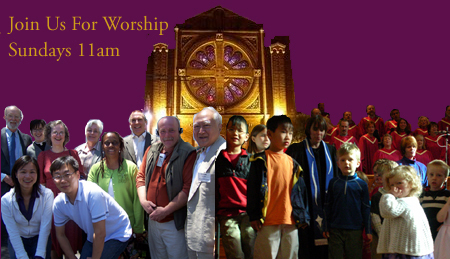 Church Newsletter | Sermon Index
Old First Presbyterian Church is an inclusive community of faith united by trust in God and faith in Jesus Christ. We warmly welcome all who accept and respond to God's saving grace in Jesus Christ and who desire to participate in the life and ministry of this church.
Established in 1849, we are the oldest active Protestant congregation in California. We are constantly renewed through a wide spectrum of activities, and of course, through new members and visitors.
Maggi's Musings - April 2015
Easter Greetings to all! This April, I hear the echo of Easter joy ringing in my ears:
Christ is Risen. Christ is Risen indeed. Alleluia!
I am happy and thankful to announce that Larry Marietta will join our staff as our new music director. He begins officially on Easter Sunday, April 5. You can find a brief biography of Larry in this month's Shared Life. Special thanks go to the members of the music director search committee: George Becker, Dan Joraanstad, Jeanne Kirkwood, Philip Pollock and Lori Yamauchi.
Also, many of you have heard about our pulpit exchange with St. Andrew's East Parish Church in Glasgow this summer. One person asked "How will you pack that big pulpit? Not going to be carry-on for sure." Thank goodness we are only sending the pastors across the sea. The term pulpit exchange comes from the fact our two churches will "exchange" pastors, who will then preach in each other's churches for a set time.
In our case, the Reverend Barbara Quigley will come from Glasgow to San Francisco for six weeks and I will go to St. Andrew's. Basically, we will exchange jobs, homes, experiences and congregations. The hope is that both the churches and the pastors will learn from each other, will experience what it means to a person of faith, a Christian, a Presbyterian in another culture, and will perhaps also see our churches and ministries though new eyes. As I read a bit about St. Andrew's East Parish and its history I find myself intrigued and excited about what our two unique historic urban parishes might learn and share this summer. I expect you will too. Learn more about Barbara's church in her description of St Andrew's East beginning on page 2 of this edition of Shared Life.
Peace, Maggi