Old First Presbyterian Church is an
inclusive community of faith
united by trust in God and faith in Jesus Christ. We warmly welcome all who accept and respond to God's saving grace in Jesus Christ and who desire to participate in the life and ministry of this church.
Established in 1849, we are the oldest active Protestant congregation in California. We are constantly renewed through a wide spectrum of activities, and of course, through new members and visitors.

Church Newsletter | Sermon Index
---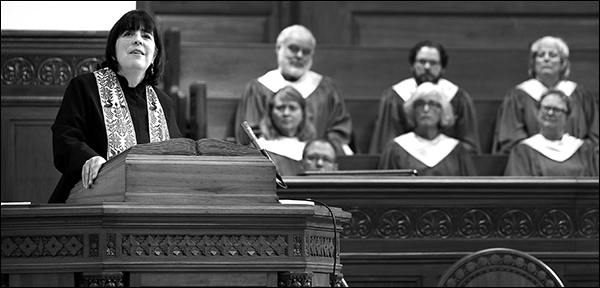 Photo courtesy The Messenger.
Our Pastor: Maggi from Piedmont - April 2018

Pastor Maggi was featured on the cover of The Messenger, the monthly newsletter from her childhood church, Piedmont Community Church. You may have seen one of their folks following Pastor Maggi around our church in January. Take a look at the article here.