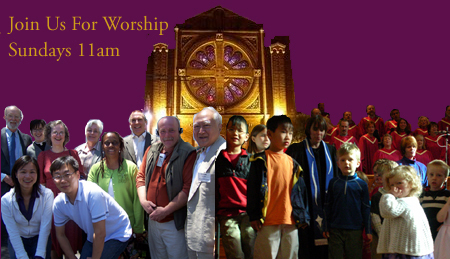 Church Newsletter | Sermon Index
Old First Presbyterian Church is an inclusive community of faith united by trust in God and faith in Jesus Christ. We warmly welcome all who accept and respond to God's saving grace in Jesus Christ and who desire to participate in the life and ministry of this church.
Established in 1849, we are the oldest active Protestant congregation in California. We are constantly renewed through a wide spectrum of activities, and of course, through new members and visitors.
---
PC(USA) Leaders Issue Post-General Assembly Letter to the Church, June 25, 2016
"For everything there is a season, and a time for every matter under heaven." Ecclesiastes 3
Brothers and sisters in Christ, there is a new season in the Presbyterian Church (USA), as witnessed by the actions of the 222nd General Assembly (2016). The body of 594 commissioners who gathered June 18-25 in Portland, Oregon, elected Co-Moderators Denise Anderson and Jan Edmiston, and J. Herbert Nelson as the Stated Clerk. Both were historic, and both signal a new way forward for our church.
The business decisions made by the body also were transformative for the 1,572,660 members and 9,642 churches of the PC(USA). The work wasn't easy, and involved careful deliberations. Collectively, the body acted on nearly 100 overtures by discerning the will of Christ.
Among other things, we now have a new addition to our Book of Confessions – the Confession of Belhar. It is the first of our confessions that comes from the global south. And, the PC(USA) has a new Directory for Worship; and Child/Youth/Vulnerable Adult Protection Policy and Procedures. God is truly guiding us to be more faithful and just to all of God's creations.
Much discussion has been taking place around the identity and purpose of the denomination, and this week the assembly voted to create a 12-member Way Forward Commission "to study and identify a vision for the structure and function of the General Assembly agencies of the PC(USA)," and a 15-member 2020 Vision Team to "develop a guiding statement for the denomination and make a plan for its implementation."
To quote Stated Clerk-elect J. Herbert Nelson, "We are not dead ... we are alive, we are reforming and we are transforming this world, one person at a time."
Looking outward, the assembly voted to engage in selective, phased divestment from fossil-fuel companies through the PC(USA)'s Mission Responsibility Through Investment committee, and re-affirmed a two-state solution for Israel-Palestine.
Please know this is only a snapshot of the actions taken, and just a glimpse at where God is leading this denomination. Complete business actions can be viewed at www.pc-biz.org.
We are, brothers and sisters, in a new season. It's exciting, but also a little scary. Yet in the midst of it all, take comfort that God is still guiding and controlling all – and we need not fear. God is calling us to hope, and to God be the glory!
The Reverend Gradye Parsons, Stated Clerk of the General Assembly
The Reverend Denise Anderson and the Reverend Jan Edmiston, Co-Moderators of the 222nd General Assembly (2016)
Ruling Elder Tony De La Rosa, Interim Executive Director, Presbyterian Mission Agency
For a wrap up of the 222nd General Assembly, visit the PC(USA) website:
https://pres-outlook.org/tag/ga222/
---

Join Presbyterians Fighting AIDS Today!
AIDS Walk San Francisco is a community walkathon to help raise awareness and funds for the fight against HIV/AIDS. This year's event benefits Project Inform, Project Open Hand, San Francisco General Hospital Ward 86, and over 40 other San Francisco Bay Area AIDS service organizations. Come join the Presbyterians Fighting AIDS Team in their 20th consecutive year at AIDS Walk San Francisco!
How to Join Our Team:

• Register on-line at sf.aidswalk.net, click "Register" and fill in yourinformation. Then continue to "Join A Team," and select Presbyterians Fighting AIDS - 1057.
• You can also call AIDS Walk San Francisco at 415.615.9255 (WALK)

Why You Should Walk:

• To support the mission to end the suffering that HIV/AIDS causes and to give back to the San Francisco community.
• The money raised helps provide much needed services such as housing, transportation, counseling, home care, prevention education, legal, mental health, HIV testing and support groups.
• Join in fellowship together during the Walk and at the post-Walk picnic.

How to Get More Involved:

• Invite others to join our Team! Announce the Walk at your service, in your bulletin, or newsletter.
• Encourage your youth groups, small groups, and bible studies to walk with us.
• Contact Marc Jung (Team Leader) at marc@missionbaycc.org or Sylvia Marton (AIDS Walk Team Coordinator) at 415.615.9255 (WALK) or by email at SylviaM@aidswalk.net with any questions.
Starts at Sharon Meadow in Golden Gate Park
Volunteer!
Volunteers are a critical component to a successful AIDS Walk San Francisco! Please contact the AIDS Walk office at 415.615.9255 (WALK) if you are interested in volunteer opportunities.