Old First Presbyterian Church is an
inclusive community of faith
united by trust in God and faith in Jesus Christ. We warmly welcome all who accept and respond to God's saving grace in Jesus Christ and who desire to participate in the life and ministry of this church.
Established in 1849, we are the oldest active Protestant congregation in California. We are constantly renewed through a wide spectrum of activities, and of course, through new members and visitors.

Church Newsletter | Sermon Index
---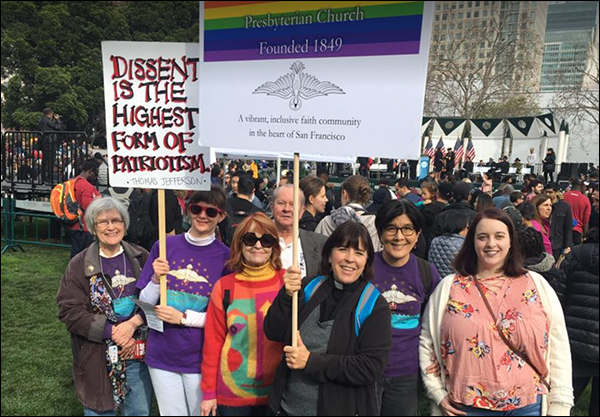 Maggi's Musings - March 2018

This year Easter Sunday falls on April 1, April Fools' Day. While it caught me a bit by surprise, I rather like the pairing. April Fools' Day is celebrated around the world with slightly different traditions but all center around practical jokes and hoaxes. In my childhood, a favorite prank was taping a piece of clear fishing line to a dollar bill and laying it on the sidewalk. When someone came by and tried to pick up the dollar bill, I whisked it away and jumped up from behind a hedge and yelled "April fool!" and hopefully shared a laugh.
I've also enjoyed viewing the 1957 BBC prank broadcast of a film in their Panorama news program purporting to show Swiss farmers hand-picking spaghetti, in what they called the Swiss Spaghetti Harvest. The BBC was later flooded with requests about purchasing spaghetti plants, forcing them to declare the film a hoax on the news the next day. (Visit this website to watch the 1957 Panorama report on the Swiss Spaghetti Harvest.)
I was intrigued to learn about a tradition of pranking in Mexico on Holy Innocents' Day. After the prank, the person yells out "innocent forever!" with the meaning of "clueless." However, the cry "innocent forever" captured my attention, as another meaning of "innocent" is free from moral wrong, not corrupted. To me innocent means to be pure, to be hopeful, to see the good in any situation, to assume the best of a person, to seek love over hate, to forgive freely, or even perhaps to follow a teacher whose actual career of teaching and leading lasted only three years. Starting to sound familiar? Easter morning was about surprise: Jesus was not dead! Jesus was risen!
To Mary and the other women at Jesus' tomb, the angel said "Don't be afraid. Jesus is not here. Go and tell the others." And the tomb is still empty, Jesus is not dead. Christ is risen - crazy, life-changing words. It can't be proved, only experienced, and we are invited into the joy of that experience.
So I find myself imaging that we respond to the holy joke this way:
Christ is Risen!
To which, in holy innocence and laughter, we reply:
Christi is risen indeed. Alleluia!
Peace, Maggi