Old First Presbyterian Church is an
inclusive community of faith
united by trust in God and faith in Jesus Christ. We warmly welcome all who accept and respond to God's saving grace in Jesus Christ and who desire to participate in the life and ministry of this church.
Established in 1849, we are the oldest active Protestant congregation in California. We are constantly renewed through a wide spectrum of activities, and of course, through new members and visitors.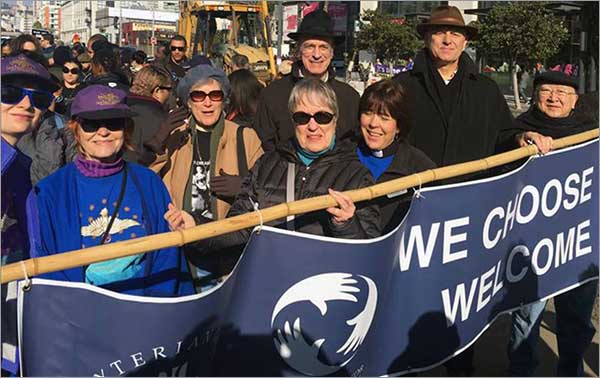 Church Newsletter | Sermon Index
---
Maggi's Musings - February 2017
It seems that we are all about love during February: Valentine cards. Heart-shaped candy. Cupids. Red and pink everywhere.
However, we Christians are all about love 365 days a year. It is about loving God, being loved by God and in thanksgiving of God's gracious love we are transformed to love those we encounter every day. It is a love for those near and dear, those in our city and state, and around the world. And maybe the hardest challenge is God's call to love those we don't like and even loving those we don't agree with as well as our enemies. As hate, cynicism and fear seem to be taking hold of the hearts and minds of many, this February we need an extra dose of love, more awareness of God's love and our power to be agents of God's love than ever before. So I am offering up a valentine of sorts to the friends and member of OFPC: word to inspire, challenge, heal and lead us.
Peace, Pastor Maggi
Love is the only force capable of transforming an enemy into a friend. I have decided to stick with love. Hate is too great a burden to bear. –Dr. Martin Luther King, Jr.

The Lord is gracious and merciful, slow to anger and abounding in steadfast love. –Psalm 145:8

Let us always meet each other with smile, for the smile is the beginning of love. –Mother Teresa

Which is the greatest commandment of all? Jesus answered, "The first is, 'Hear, O Israel: the Lord our God, the Lord is one; you shall love the Lord your God with all your heart, and with all your soul, and with all your mind, and with all your strength.' –Mark 12:28-31

All you need is love. But a little chocolate now and then doesn't hurt. –Charles M. Schulz

Did I offer peace today? Did I bring a smile to someone's face? Did I say words of healing? Did I let go of my anger and resentment? Did I forgive? Did I love? These are the real questions. I must trust that the little bit of love that I sow now will bear many fruits, here in this world and the life to come. -Henri Nouwin

When the power of love overcomes the love of power the world will know peace. –Jimi Hendrix

Above all, maintain constant love for one another, for love covers a multitude of sins. –1 Peter 4:8

Love recognizes no barriers. It jumps hurdles, leaps fences, penetrates walls to arrive at its destination full of hope. –Maya Angelou

A new command I give you: Love one another. As I have loved you, so you must love one another. –Jesus Christ
---