Old First Presbyterian Church is an
inclusive community of faith
united by trust in God and faith in Jesus Christ. We warmly welcome all who accept and respond to God's saving grace in Jesus Christ and who desire to participate in the life and ministry of this church.
Established in 1849, we are the oldest active Protestant congregation in California. We are constantly renewed through a wide spectrum of activities, and of course, through new members and visitors.

Church Newsletter | Sermon Index
---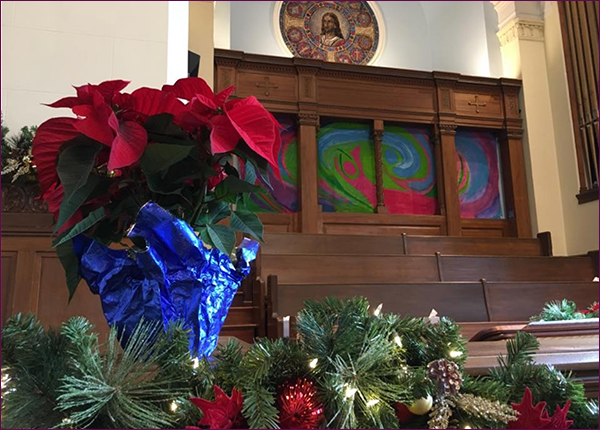 Maggi's Musings - Prepare for Advent - December 2017

The theme for Advent this year is Prepare the Way. We enter in to the gift, the challenge and, sometimes, the bother of trying to slow down and savor the waiting for Christmas, of making room for the birth story of God coming into the world, the God who is enfleshed, the infant Lord Jesus.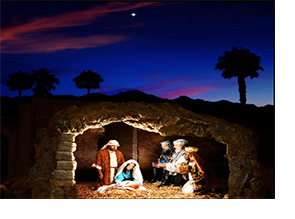 Somehow in the midst of the busy-ness, our memories both joyful and sad, and our faith, both strong and doubt-filled, have their place. We find ourselves in the midst of every-day routine, yet Advent offers time and place for the rebirth of hope, of love, and of an intimate relationship with the God made tangible in Jesus Christ. So, let us prepare ourselves that God may find a way into our lives and for us to find our way back to God.
We can do this by following the Advent calendar available at worship beginning December 3, or by reading a devotional on line – such as www.d365.org – or by E-mail – such as Richard-Rohr-s-Meditation-Breathing-Yahweh, or by following the PC(USA)'s devotionals on Periscope.
I invite you to read the scripture for each Sunday in the week before as preparation. The readings are listed below. See how the Word plays with you or inspires you during the week and especially in Sunday morning. In my own life I find if I prepare: read and listen to the scripture Sunday morning can bring such amazing surprises! It is like I am ready for something to happen and often it does.
Peace, Pastor Maggi
Advent: Prepare the Way
First Sunday of Advent, December 3
Prepare The Way: God is Near
Luke 1:1-25
Advent cultivates the difficult discipline of waiting. But that waiting and hope find fulfillment when God draws near. Advent is alive with a sense of restoration and stirring with the hope of redemption. It is heavy with the longing for God to rescue us and bring us back to himself. In our culture, the Christmas season is often associated with a fast-paced sense of hurry. The "holiday rush," they call it. Inevitably, we will feel the tension of impatient shoppers and hectic schedules. But the Christian embrace of Advent is a counter-cultural act of intentional patience. We wait. We hope. Resisting the urge to rush ahead to the manger, we enter into the story of Israel and share their longing for a Savior.
Second Sunday of Advent, December 10
Preparing the Way: God is Among Us
Luke 1:26-38
Discover the mystery, the mission, and the motivation of Advent. As we prepare the way in our hearts for the arrival of the Messiah, we see a peculiar truth. Almost every other religion in the world is structured so that humanity has to make its way to God. But in this upside-down, backwards kingdom of Jesus, God comes to us. In today's passage we examine Gabriel's announcement to Mary: God is about to be among us. And in this exchange we catch a glimpse of the mystery, mission, and motivation of Advent.
Third Sunday of Advent, December 17
Preparing the Way: God Shows Us God's Favor
Luke 1:39-59
Discover that God's favor is poured out on us for his glory and for the sake of others. As we prepare the way for the arrival of the Messiah, we are humbled that God would show his favor to us. Why would he do this? What did we do to deserve it? How should we live in response to it? In today's passage we look once again at Mary and Elizabeth, and we discover through their example that God's favor is poured out on us for his glory and for the sake of others.
Fourth Sunday of Advent, December 24
Preparing the Way: Born into the world, God is with us
Luke 2:1-20
Discover that Jesus is glorified in all things—from the highest place to the lowest place. As we prepare the way in our hearts for the arrival of the Messiah, we are moved to worship him! We can't help but sing out his praises as Christmas Day draws near. Everywhere we turn, songs flood the airwaves, rejoicing in the birth of Jesus. As we see in today's passage, it's been that way since the beginning of this story.
We at Old First Presbyterian Church believe
that all are made in the image of God.

We seek to follow the ways of Jesus, the Prince of Peace.

So we pray for peace and work for justice.

May our words and our actions follow the model of St. Francis who said,
"Preach the Gospel at all times, and if necessary use words."
Or in other words, be peace, be love, be justice, be hope.