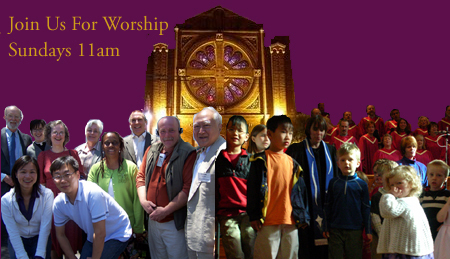 Church Newsletter | Sermon Index
Old First Presbyterian Church is an inclusive community of faith united by trust in God and faith in Jesus Christ. We warmly welcome all who accept and respond to God's saving grace in Jesus Christ and who desire to participate in the life and ministry of this church.
Established in 1849, we are the oldest active Protestant congregation in California. We are constantly renewed through a wide spectrum of activities, and of course, through new members and visitors.
---
Presbyterian Mission Agency
Prayer after the Nightclub Shooting in Orlando
June 12, 2016
The Reverend Laurie Ann Kraus
Associate Mission Director, Presbyterian Disaster Assistance
Once again, Holy One, we cry, "How long, O Lord?"
We wonder, when will it be enough?
We pray you will forgive
our society which tolerates violence,
our fearful xenophobia, and
our willingness to turn a blind eye and a deaf ear to words and deeds of intolerance.
Your LGBTQ people slaughtered in this horrific attack are our brothers, our sisters, our parents and our children, and this loss of life diminishes all the human family.
The same lifeblood—the gift of a loving God—flows through all our veins,
and spills out without regard to difference,

staining the floors of our places of fellowship, community, and learning,
staining our lives with sorrow, fear and regret.
Let the same heart beat as one among us,
that we will draw together across these false divides,
And rise up as one to breathe peace where there is no peace,
and heal our communities and our world.
God of life, whose presence sustains us in every circumstance,
as the sound of gunfire echoes across Orlando
we seek the grounding power of your love and compassion.
We open our hearts in anger, sorrow and hope:
For those who have been lost: brothers and sisters, neighbors and friends –
your children, enjoying an evening of music and friendship,
whose lives were ended or maimed in a hail of hatred and gunfire.
We pray for those who have been spared and those whose lives are changed forever
that they may find solace, sustenance, and strength in the hard days to come.
We give thanks for first responders:
who ran toward gunfire, rather than away
who dropped everything to save the wounded and comfort survivors
We pray for doctors and nurses and mental health providers
who repair what has been broken
who bring healing and hope

in the face of the unchecked principalities and powers of violence.
God of the rainbow, once long ago,
you stretched your light across the heavens
to renew your covenant of peace with your people, you promised not to destroy.
Help us in these days to believe that promise, and to participate in it,
and to treasure the life which it treasures.
In the wake of an event that should be impossible to contemplate
but which has become all too common in our experience,
open our eyes, break our hearts, and turn our hands to the movements of your Spirit –
that our anger and sorrow may unite in service to build a reign of peace,
where the lion and the lamb may dwell together,
and terror no longer hold sway over our common life.
In the name of Christ, our healer and our light, we pray. Amen.
---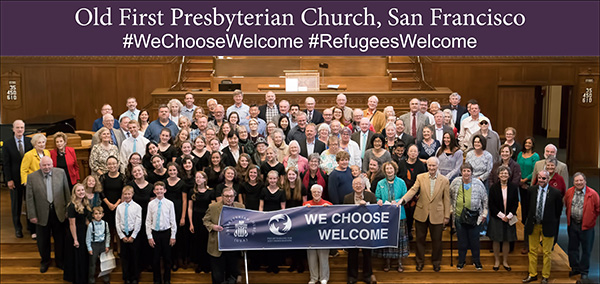 OLD FIRST JOINS CAMPAIGN TO WELCOME REFUGEES
Old First Presbyterian Church has joined a national campaign of the Presbyterian Church (USA) and over 50 other faith organizations to welcome refugees as neighbors. The campaign is in response to the largest refugee crisis since World War II.
Old First's "We Choose Welcome" initiative is intended to let the world know that we stand for love, justice and welcome. We are working with other faith organizations in the Bay Area to provide a robust welcome to refugees and to encourage national and local leaders to honor our nation's heritage as a nation of immigrants.
This photo includes worshipers at Old First and Chandler Children's Choir from Chandler, AZ. For more information about the Welcome initiative, please go to Interfaith Coalition Set to Welcome Syrian Refugees For volunteer opportunities, please email welcome@oldfirst.org.
---
Pastor Maggi Henderson on Sabbatical - June 2016
Pastor Maggi Henderson's sabbatical began after worship on May 29. She will return on Sunday, October 2, for World Communion/Peace and Global Witness Sunday. Part of Maggi's original call includes a sabbatical every four years. Elder Pam Byers suggested a sabbatical policy and the Pastor Nominating Committee readily agreed. They learned that:
A sabbatical has its roots in Scripture and in church tradition, sabbatical leave is an extension of the biblical concept of a Sabbath day and a Sabbath year for renewal. It is both an act of faith that God will sustain us through a period of reflection and changed activity and an occasion for recovery and renewal of vital energies for the pastor and the congregation.
The sabbatical team is in place and many details have already been addressed. For example, our good friend, the Reverend Keenan Kelsey, has generously and happily agreed to lead worship on the first and third Sundays of each month. This gives us consistency in worship especially on communion Sundays. Lay leaders will offer the welcome and announcements, and Larry Marietta will take over choosing the hymns. We can look forward to a variety of guest preachers as well as some of our lay leaders taking the step into the pulpit.
The Reverend Erwin Baron and the Reverend Susan Ashton will address pastoral needs including pastoral care, hospital visits, and additional worship services as needs might arise. The session and deacons will be on hand to give care and leadership. Our Administrator, Brad Peterson, will run the office day to day (as usual!), so, if you need something, call the office and speak to Brad or send him an E-mail. But let's make sure we don't over burden Brad; let's take on tasks that need to be done ourselves and make sure we follow though!
The congregation has several important roles during a sabbatical:
• Welcoming: Make an extra effort to welcome visitors in worship: greeting, asking them to fill out a guest card, inviting folks to coffee hour and welcoming them back the next time they worship.

• Caring: Keep an eye out for folks you haven't seen in a while and E-mail or call and check in. Share information you might discover with your deacon or with the church office.

• Working: Be great communicators: If something is going on in your life or with others, let someone know. If something needs to be taken care of, do it yourself or ask others to help and follow through.

• Praying: Pray for Pastor Maggi, the session and board of deacons, our guest pastors, our lay leaders and the congregation.

• Opening to the Spirit: Keep your hearts and minds open to how the Spirit will be working in the church and through the messages of those who preach!

During Maggi's prior sabbatical we, as a congregation, gained confidence that we really are a family and that we can care for each other and the community around us. Maggi came back refreshed and renewed, which is the purpose of a sabbatical. We hope this year for the "reaffirmation of the calling to ministry on the part of clergy and congregation with both being reinvigorated and rededicated to the work of God's people."
Shalom!
Lori Yamauchi, Linda Reyder, Dana Nojima, Jeanne Kirkwood, Christopher Burt, Susan Ashton
The 2016 Sabbatical Team