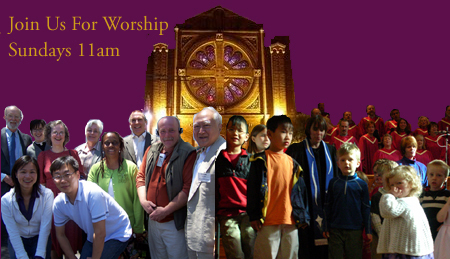 Church Newsletter | Sermon Index
Old First Presbyterian Church is an inclusive community of faith united by trust in God and faith in Jesus Christ. We warmly welcome all who accept and respond to God's saving grace in Jesus Christ and who desire to participate in the life and ministry of this church.
Established in 1849, we are the oldest active Protestant congregation in California. We are constantly renewed through a wide spectrum of activities, and of course, through new members and visitors.
Maggi's Musings - September 2014
A visiting pastor was meeting with a group of San Francisco pastors and asked us this: If he was going to bring his family to San Francisco for a summer vacation, when should he come to experience the best summer weather? Two of us answered in unison "October!" Summer in San Francisco is a wholly different thing as many of our visitors comes to know as they walk down the streets in their recently purchased sweatshirts on a foggy summer day.
Our summers are a bit different in a variety of ways. Churches in the other parts of the country can count on decreased numbers in worship and participation during summer months. We don't see a big difference. However, the pace of our church life does change during the summer months: We give ourselves the luxury of a few less meetings, the choir takes a break and sits in the pews, and I find it is a bit less frantic and can take more time to ponder.
And I have been pondering about the children and youth of our church. Like most urban churches, we don't have a high number of young people but we have exceptional young people, many of whom are active in the life of Old First in a variety of ways. I have a long history of working with youth and children and love being their pastor. So it is a bit of loss for me in this city, where it is said there are more dogs than babies!
This summer I got an E-mail from a member of a North Carolina church where I once worked telling me that her son was doing an internship in Berkeley and asking if I could be in contact with him. I told her "Sure, why don't you have him E-mail me," yet thinking I wouldn't hear from him. He was dear to me but he really hadn't seen me since he was in elementary school and I thought the request might be more about his mother wanting me to check on him, than about his desire to meet me again. So I was thrilled when he called. I got to spend a wonderful evening with this 21-year-old man. It was a privilege to be his pastor then and a joy to see him "all grown up."
That evening got me dreaming about how we might care for and be part of our young people's lives in ways that can fit our unique situation today, and not be about trying to replicate our past experience or being unrealistic.
I have come up with a modest proposal. I wrote our families and shared this: I am willing to commit my time and my energy this fall to try a couple of things, a couple of experiments so to speak. But really, I need your support and your kids to make this happen.
I have two simple ideas: First, as some of you may know, last year a city-wide Presbyterian youth group was started called San Francisco Presbyterian Youth Group. (Yup, SFPYG for short!) It draws middle school and high school students from all over the city and some even come in from the East Bay. There are lots of churches like ours that have kids but not enough for an old-school youth group. SFPYG meets on the second Sunday of the month from 1:30pm to 3:30pm at different churches all over the city. This fall, I am to go to the meetings and take our youth myself. The first meeting is on Sunday, September 14.
Second, I want to do something fun with our kids every two or three months. It might be a service project or hiking, an art thing or playing, or doing some fabulous thing in The City. The first event will be Sunday, September 7 - the Sunday that Christian Education starts. We'll start after the coffee hour. I am calling it "Maggi's Mystery Trip!" This is not about numbers. This is about relationships. If one young person participates, I will call it success. My plate is full already, so to do this new thing I will have to let other things go. And I will need adults to come with me. Maybe you've already asked - or now can offer - to help plan an event, to help with media and computer issues, to drive, or to lead an art project. Finally, I ask for your prayers and support. Let's see where God can work in our midst this fall.
Peace, Maggi