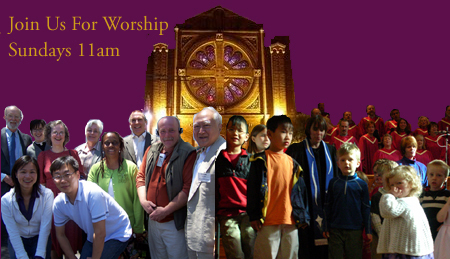 Church Newsletter | Sermon Index
Old First Presbyterian Church is an inclusive community of faith united by trust in God and faith in Jesus Christ. We warmly welcome all who accept and respond to God's saving grace in Jesus Christ and who desire to participate in the life and ministry of this church.
Established in 1849, we are the oldest active Protestant congregation in California. We are constantly renewed through a wide spectrum of activities, and of course, through new members and visitors.
Maggi's Musings - October 2015
Glory to God: The Presbyterian Hymnal, the new purple hymnal, will be dedicated on Sunday, October 25. The theme of the worship service will be Singing our Faith, Singing in Celebration. You will remember that a year ago the session approved acquiring the new hymnals. Many of you sponsored hymnals in honor or in memory of friends and family. A gift from the estate of Mary Blake helped us along. Then we received a generous gift from Pam Byers' family that enabled us to get all the hymnals we needed along with large print copies and resources for the music director.
I was reminded that Pam actually collected hymnals and hummed hymns throughout the day. Pam wrote, "Because I actually love hymnals, and because I'm slightly crazy, I compared the table of contents of the new hymnal with our current one. You won't be surprised to learn that most (although not all) of our favorite hymns are retained in Glory to God. In other words, I believe the new hymnal keeps virtually all our best loved (and new) songs, while adding a great many more!"
I have learned that denominational hymnbooks typically enjoy a life-span of about 20-25 years. The Presbyterian Hymnal: Hymns, Psalms, and Spiritual Songs, the blue hymnal, was published in 1990, so it seemed right when the 206th General Assembly authorized research into a new hymnal in 2004. The committee "tested" over 10,000 hymns to choose the more than 850 hymns found in the new hymnal. (Seventh Ave Presbyterian Church in San Francisco was one of the "tester" churches!) Requiring careful choices, if also a glacial pace, the hymnal committee required a two-thirds approval for every text and every tune before their inclusion in the Glory to God.
About 60% to 65% of the blue hymnal has been carried over into Glory to God. I did a bit of research on my own and found that at Old First we sing about 40% of the blue hymnal. This means that our most frequently sung hymns are in the new hymnal, while we will also be able to deepen our faith by learning new hymns beloved by other people and traditions. You may be surprised to discover how many of the new hymns you have already heard the choir sing or sung yourselves.
We will put the new hymnals in the pew racks for blessing and use on October 25.
May God teach us new songs of joy and hope this day and all the days of our life.
Peace, Maggi