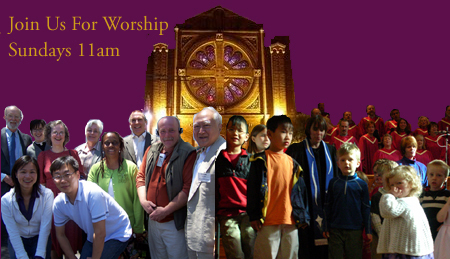 Church Newsletter | Sermon Index
Old First Presbyterian Church is an inclusive community of faith united by trust in God and faith in Jesus Christ. We warmly welcome all who accept and respond to God's saving grace in Jesus Christ and who desire to participate in the life and ministry of this church.
Established in 1849, we are the oldest active Protestant congregation in California. We are constantly renewed through a wide spectrum of activities, and of course, through new members and visitors.
Detroit Delicatessen: A Perspective on Our General Assembly
Logan Hollarsmith
I asked the teaching elder commissioner next to me during one plenary session why the General Assembly (GA) never asks his opinion on the structure of the assembly. I was fishing for a joke to break up the summer days spent in the overly air-conditioned dark conference hall. The pastor took a moment to respond. He turned to me and in his slow, deliberative speech told me, "Sometimes it's better to not see how sausage is made."
I could not have been luckier than to join in the 221st General Assembly, and it was my privilege to see how the sausage is made. I grew up in this church, and always associated the word "church" with our congregation and address on Sacramento Street. The first three days in Detroit were culture shock to the indoctrination of what appeared to be the United Nations of Jesus. I never imagined the sheer scale of the Presbyterian Church and the surprisingly horizontal political structure that unites and governs us. There were teaching and ruling elders from all over the country, representing nearly two million members, and the sense of shared identity among the one thousand participants was strongly felt. I even learned of Presbyterian jokes and our self-declared stereotypes of collective indecision and over-analysis. However, as encountered through dinner conversations with other elders, in many cases our shared identity as Presbyterians was our only commonality.
Several of the voted decisions divided the church. Speakers made their way to one of the seven microphones to express grief, polarity among the polity, and in tears would share their decision to take their congregation into other denominations. The stakes were very high this year, but as I was informed by a GA Junkie: "It's always this important."
The GA is a very public affair, where decisions are broadcast and implemented across the country. What is not shared among the masses are the small personal accounts that make up the passing of the overtures by majority vote. The process toward the "calling of the question" was tedious, very uncomfortable, and often hilarious. To bear witness and participate in a transparent democratic system was both inspiring and empowering. This feeling of unity was balanced, on the contrary, by moments more relatable to those dreams of entering your final exams in a bathrobe (to which everyone can relate, I'm sure).
General Assembly Moves forward on Marriage and Much Else
Pam Byers
With the theme "Abound in Hope," the 221st General Assembly of the Presbyterian Church (USA) met from June 14 to 21 in Detroit; 680 commissioners, 150 or so advisory delegates, and several thousand observers, staff, and hangers-on.
Of most immediate importance to Old First, the General Assembly (GA) approved by a 61% vote an Authoritative Interpretation of the Directory for Worship's section on marriage. This allows clergy and sessions in the states where same-gender marriage is legal to officiate at such weddings without fear of prosecution in church courts, if in their pastoral discernment and scriptural understanding the marriage is warranted. Pastors and sessions also have complete discretion not to perform such ceremonies or permit the use of church property for them, if their interpretation of scripture does not support them. Old First's session sent this overture to the Presbytery of San Francisco, which passed it to become one of two dozen presbyteries requesting this action. The new ruling took effect as of close of business on Saturday, June 21.
The GA also passed a proposed amendment to the Directory for Worship, changing the description of marriage from "a civil contract between a man and a woman" to "a unique commitment between two people, traditionally a man and a woman." This amendment will need to be passed by a majority of presbyteries over the next year.
The GA took the first step toward adding the Belhar Confession, a prophetic call for racial reconciliation from South Africa, to our Book of Confessions, approving sending it out to presbyteries for study and vote. And it took the last step approving a new and more accurate translation of the Heidelberg Catechism.
The GA endorsed a number of strong actions on gun violence, called on Presbyterians to support immigration reform, and passed two overtures from the Presbytery of San Francisco calling for a study of drug policies (so as not to incarcerate a whole generation of young men of color) and for investigation of divestment from fossil fuels.
In perhaps its most controversial move, the GA narrowly approved a call to divest from three American companies whose products are used in the occupation of the Palestinian Territory, along with a number of other measures aiming at promoting Israeli/Palestinian peacemaking.
Late one night, after a very long day of deliberations, commissioners and advisory delegates tossed around 248 giant red beach balls to celebrate the 248 New Worshipping Communities established in the past two years. The Sanctuary for the Arts in Oakland, led by Jeff Cheifetz, is one such.
Pam Byers attended as overture advocate for our session's overture, and Logan Hollarsmith served as our presbytery's young adult advisory delegate. Recent intern David Altshuler and former Old Firsters Keenan Kelsey, Deb Avery, Linda Stewart-Kalen, and Tim and Madeline Hart-Andersen also attended in various capacities.
Several news stories are posted on the bulletin board outside the Munro Room. Hundreds of individual news reports from GA can be found at http://oga.pcusa.org/statements-news/