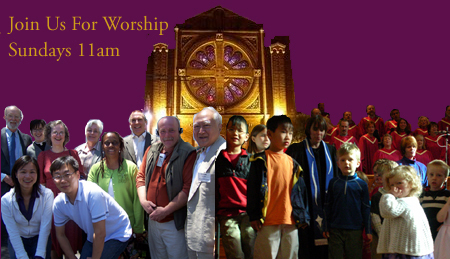 Church Newsletter | Sermon Index
Old First Presbyterian Church is an inclusive community of faith united by trust in God and faith in Jesus Christ. We warmly welcome all who accept and respond to God's saving grace in Jesus Christ and who desire to participate in the life and ministry of this church.
Established in 1849, we are the oldest active Protestant congregation in California. We are constantly renewed through a wide spectrum of activities, and of course, through new members and visitors.
Maggi's Musings - December 2014
The season of Advent, a time of reflection and preparation before Christmas, begins this year on November 30. If we look and listen to the secular calendar or store windows, we could easily think that Christmas is already upon us and that it has little to do with the birth of Jesus Christ. But we, as disciples of Jesus, work and live by a different calendar. We seek to walk in the way of Jesus – not just during this season – but 365 days a year.
The season of Advent is a gift for refocusing ourselves, for setting ourselves on the path towards Jesus anew. Indeed it is a challenge to keep Christ at the center of our lives and perhaps especially amid everything that takes place in December. Yet, let's see if Advent can be a gift to help us to seek simplicity in all things and nurture our inward faith for outward living.
We are invited to go into Advent with joy, to let go of anxiety and to take on a spiritual practice which embraces simplicity and the meaning of the season. Here are some ways to start:
Commit to using the Advent Calendar called Decluttering for Christmas. (Advent calendars called "Decluttering for Christmas" available at church or can be mailed to you. Simply call the church office. A one dollar donation per calendar is appreciated.)
Use the devotional at www.d365.org. The site is the work of the Cooperative Baptist Fellowship, the Presbyterian Mission Agency, and the Episcopal Church. It is written primarily for youth and young adults, but I think is great for all ages.
Look at the Bible readings for this month. (See the table on the last page of Shared Life.) Read the scriptures for each Sunday during the prior week. Let the scriptures work on you and in you during the week. You'll hear them woven into worship on Sunday and experience them differently, more deeply than you might have.
Take the bulletin home and pray for those listed in the prayers of the people each week.
Check out our Facebook page and see what poems or insight on Advent which I will put up during Advent.
Frankly, I need the focus of Advent this year. I will be praying for you, and I hope you will be praying for me, as we all seek to develop a life-giving, life-clarifying spiritual practice this year. I will leave you with a poem by the pastor and poet Ruth Burgess who often points me in the right direction.
Peace, Pastor Maggi
Bright Star-Maker God

Bright star-maker God,
travel with us through Advent
shine into our dark corners
lead us into ways of justice
warm us with joy and wonder
bring us to new birth.