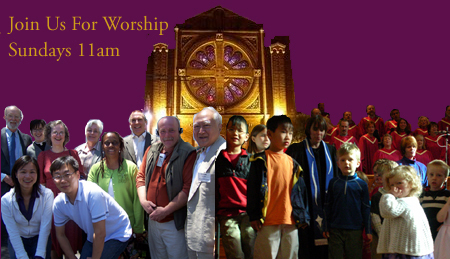 Church Newsletter | Sermon Index
Old First Presbyterian Church is an inclusive community of faith united by trust in God and faith in Jesus Christ. We warmly welcome all who accept and respond to God's saving grace in Jesus Christ and who desire to participate in the life and ministry of this church.
Established in 1849, we are the oldest active Protestant congregation in California. We are constantly renewed through a wide spectrum of activities, and of course, through new members and visitors.
---
Refugee Welcome Kit Drive Begins September 11
In May, our congregation formally joined the national campaign of the Presbyterian Church (USA) and over fifty other faith organizations to welcome refugees of all faiths and nations as neighbors.  When people completed Old First's We Choose Welcome team's questionnaire, the responses showed great interest in donating or contributing money to buy items to fill Welcome Kits for newly arriving refugees.
Beginning Sunday, September 11, and continuing the next two Sundays, Old First will have a drive to acquire all the items needed for refugee Welcome Kits.  Using lists provided by the International Rescue Committee (IRC), all of us can donate items needed for the kits.  Volunteers will assemble the donated items into complete kits.  Each kit will include all the kitchen items, cleaning supplies, linens and other household items, and toiletries that the IRC requests for a family of four. 
Those who prefer to make a monetary donation can do that, and volunteers then will use these contributions to buy the remaining items needed to complete the kits.  Depending on the products selected and where they are purchased, we expect that the cost of the items in each kit will run to about $500.
Watch for more details via E-mail and worship service announcements.  Volunteers for the Welcome Kit drive are most welcome!  If you are interested in helping, please contact a member of Old First's We Choose Welcome team:  Sarah Taber, Sally Spencer, Mary Russell, Hsiaochien Chuang, Dana Nojima and Bill Campbell.
Introducing Brook Scott, Our New Seminary Intern
Old First's new seminary intern, Brook Scott, was introduced on August 14.
I am pleased to introduce myself to you as I start my nine-month internship at OFPC in September. My husband, Jack, and I live in San Rafael and have lived in Marin County for the past 27 years. I am a second-year seminarian at San Francisco Theological Seminary. My roots are in bucolic Coventry in eastern Connecticut where I was one of six children. I majored in history at Trinity College in Hartford and received my masters from NYU's business school. Our son, Will, 24-years old, lives in Beverly, Massachusetts, and our 22-year old daughter, Blair, lives in Washington, DC.
Westminster Presbyterian is my home church where I am an elder, lector, and former chair of the Finance Commission. I am exploring my call for ministry as an inquirer under the care of the Redwoods Presbytery. When I am not studying, I enjoy rooting for the SF Giants and the Golden State Warriors, hiking Mt. Tamalpais, skiing at Lake Tahoe and vacationing on Nantucket Island.
Professionally, I worked as a CPA and management consultant at KPMG in New York and San Francisco, then as a vice president at the RREEF Funds (now the real estate arm of Deutsch Asset & Wealth Management). Most recently, I was Interim Head of Research for the Americas for CBRE, a commercial real estate brokerage company in San Francisco.
I am grateful for the opportunity to be of service at OFPC. My goals are to help the homeless, to work with San Francisco Interfaith Council, to assist in long-range strategic planning, to learn more about the Black Lives Matter movement, and to preach. I can't wait to meet you all and work together in pursuing God's work in the name of Jesus Christ, our Savior.
Until then, may God bless you.
Brook Scott, San Francisco Theological Seminary
Peace and Global Witness Offering, October 2
Next month, congregations throughout the Presbyterian Church (USA) will receive the annual Peace and Global Witness Offering (formerly Peacemaking Offering). This offering works both locally and around the world to transform cultures of violence into communities of peace. For more information, visit the Presbyterian Church (USA) website.
---