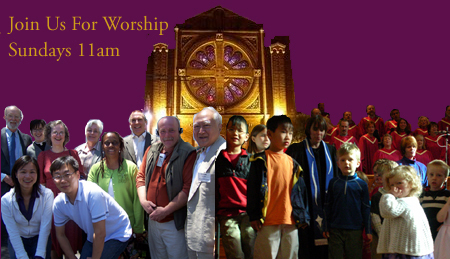 Church Newsletter | Sermon Index
Old First Presbyterian Church is an inclusive community of faith united by trust in God and faith in Jesus Christ. We warmly welcome all who accept and respond to God's saving grace in Jesus Christ and who desire to participate in the life and ministry of this church.
Established in 1849, we are the oldest active Protestant congregation in California. We are constantly renewed through a wide spectrum of activities, and of course, through new members and visitors.
Maggi's Musings - December 2013 - Advent at Old First
December 1 is the First Sunday of Advent, which marks the beginning Christian new year. Advent (from Latin for "coming" or "arrival"), is a four week season before Christmas and its twelve days. Advent is a time of anticipation, reflection, and getting ready both for Jesus' Birth – for God's incarnation into the world on Christmas – and for Christ's return. Mark Roberts reminds us that Advent includes the following themes: "Waiting; Expectation; Hope; Yearning; Our need for a Savior." Christians remember the Jewish yearning for the advent of a messiah and also look with hope for the Messiah's second advent.
At Old First Presbyterian Church we have been planning, working and praying that Advent will be a time in which our faith is deepened and our hope renewed. Worship will offer this through art, music and word. Click here to read about all of the opportunities for you to let God work a new thing in you this year:
The revived ancient practice of prayer stations will be available in the church. A prayer station is a place to engage all the senses in meditation, reflection and prayer. Each week there will a new theme, a new experience for all ages. This is an experiential form or prayer and therefore hard to explain, but here goes… Each station will have scripture, a guide for mediation, items to help focus and open your mind and heart, and an opportunity to reflect. Duplicate stations will be found in the narthex and chapel. You're invited to use them before, during and after the service or whenever you might be in the church during the week. You're invited to try it each week and see how your Advent time may be enriched.
A World Awaits: Daily Reflection for Advent from the Works of C.S. Lewis, an Advent devotional in print will be available in the narthex or from the ushers beginning on Sunday, December 1. If you are unable to come to church contact the church office and ask for one to be sent to you.
There is also a great on-line Advent devotional called Following the Star. You can find it on the web at www.d365.org. This series, which features scripture, prayer, and meditative thoughts about Christ coming again into our world, will run from December 2 through January 6 – the Epiphany – in 2014.
Finally, make your shopping a discipline in compassion. Take time to reflect on the cuts to the SNAP/food stamp programs, knowing that half of those affected are children. As you purchase these items and as you put them in the food barrel in the Narthex for the S.F. Food Bank, pray for those who have less and see if this persistent prayer might lead you to action: to get on line, to write to those in power to make sure all of God's children are fed.

1st Sunday the 1st Cereal or oatmeal
2nd Sunday the 8th Canned meat, tuna or chicken
3rd Sunday 15th Healthy snacks: granola bars, nuts, or trail mix
4th Sunday 22th Beef or Turkey Chili (low sodium)
December 29th Any kind of food items
Jan 5th Epiphany, Food items for infants
May this Advent Season lead us all to a deeper and renewed walk on the Jesus way.
Peace,
Pastor Maggi