Old First Presbyterian Church is an
inclusive community of faith
united by trust in God and faith in Jesus Christ. We warmly welcome all who accept and respond to God's saving grace in Jesus Christ and who desire to participate in the life and ministry of this church.
Established in 1849, we are the oldest active Protestant congregation in California. We are constantly renewed through a wide spectrum of activities, and of course, through new members and visitors.

Church Newsletter | Sermon Index
---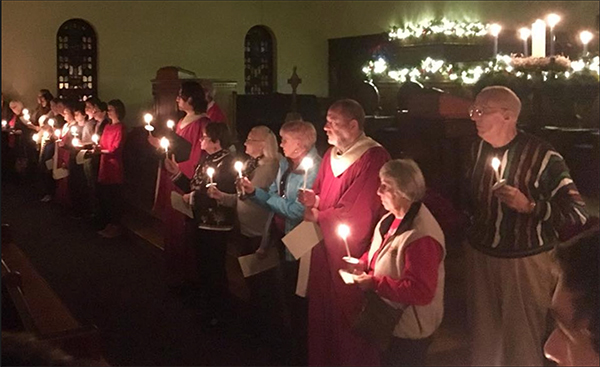 Maggi's Musings - January 2018

We will celebrate the Epiphany on Sunday, January 7, 2018, when the Revered Deb Avery, the former pastor of First Presbyterian Oakland, will preach for us. We will continue the celebration with potluck lunch after church. We will recall the wise men from the East that followed the star to Bethlehem to worship the infant Jesus (Matthew 2:1-12).
Epiphany is the celebration of God's manifestation or self-revelation to the world in Jesus Christ. In particular, we celebrate the revelation of God's promise and purpose to the nations of the world, as the magi came from the East to worship to the Christ child, and God's covenant of grace is extended to all who believe the good news of Christ Jesus. The symbolism of light is important: not only because of the star that guided the magi, but as it relates to the bright dawning of God's self-revelation in Christ.
– from the Companion to the Book of Common Worship
The word "epiphany" – from the Greek epiphaneia – means "appearance" or "manifestation" of God, and shares roots with the word for sunrise or dawn. In ancient times, an epiphany meant either a visible manifestation of a god or the solemn visit of a ruler venerated as a god. For Christians, Christmas marks the coming of God to us; Epiphany celebrates the appearance of the Lord in the midst of all humanity. For many, this has been a time to reflect on what we will offer of ourselves to God as followers of Jesus this new year of 2018.
Last year people picked up Epiphany star words at worship. These included words such as "discovery," "forgiveness," "vigilance," "zeal," "confession," "examination," "heart," "lenience," and "grace" – but to name a few. Mine was "graciousness." I invite you to dust off your 2017 word and to reflect on how it may have shaped or informed your year. In worship on January 7 you will receive a new word. If you're not in worship you can get one from the ushers in the coming weeks. Let us – as individuals and as a community – look for moments of God's light, for the aha! moments, for clarity as we seek to follow Jesus anew this season, this year.
Peace, Pastor Maggi