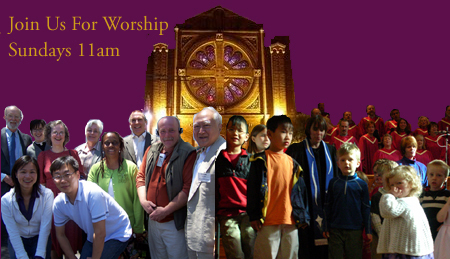 Church Newsletter | Sermon Index
Old First Presbyterian Church is an inclusive community of faith united by trust in God and faith in Jesus Christ. We warmly welcome all who accept and respond to God's saving grace in Jesus Christ and who desire to participate in the life and ministry of this church.
Established in 1849, we are the oldest active Protestant congregation in California. We are constantly renewed through a wide spectrum of activities, and of course, through new members and visitors.
Maggi's Musings - February 2015
Lent begins Ash Wednesday, February 18, with a worship service at 7:00 pm.  Lent is, as the PC (USA) website says,

a time of prayer, fasting and self-examination in preparation for the celebration of the resurrection of the Lord at Easter. It is a period of 40 days — like the flood of Genesis, Moses' sojourn at Mount Sinai, Elijah's journey to Mount Horeb, Jonah's call to Nineveh to repent and Jesus' time of testing in the wilderness. (The Sundays in Lent are not counted in this reckoning of the time between Ash Wednesday and Easter, as every Lord's Day is a celebration of the resurrection of Jesus Christ. In the early church, Lent was a time of preparation for the celebration of baptism at the Easter Vigil. In many communities of faith it remains a time to reflect deeply on the theme of discipleship.
During this season often people give something up that gets in the way of in following the ways of Christ.  It is a way to examine what has a hold on us and what takes more of our attention than it should.  Alternatively, we might take on a new practice, refocusing our minds and hearts.  This year I invite all of us to try taking on a new habit, finding a new practice.  Here are two opportunities:
The Lord's Prayer for Lent: Worship, Prayer Life, Adult Education
To be honest, we often reel off the Lord's Prayer without being aware of what are saying.  So, on the Sundays of Lent, we will focus in our worship and praise on one line of this prayer at a time. 
Along with this Sunday focus, you might well include the Lord's Prayer in your prayer life during the week, focusing on that week's verse.  For example, you might focus on the verse each morning and then see how it affects or informs your day.  You could even post insight to our Facebook page!
Adult education will also examine this prayer so central to Christianity. Several leaders will work us through six sessions of Reflections on the Lord's Prayer:  A Lenten Study from the Thoughtful Christian publishing house.  The series will start on Sunday, February 22, and continue through the Sundays of Lent lasting from 9:30 to 10:30 am in the Munro Room.
All-Church Read:  Sara Miles' City of God:  Faith in the Streets
Another option for a new Lenten practice would be joining in the all-church reading of City of God:  Faith in the Streets by Sara Miles.  Many of you know Sara Miles from her book Take This Bread.   Sara, a deacon at St. Gregory of Nyssa Episcopal Church in Potrero Hill, helped start their food pantry, and encouraged us in starting the Interfaith Food Pantry at Old First.
City of God focuses on Ash Wednesday 2012, when Sara Miles carried ashes out into the street and made this ancient Christian practice new again:
Sarah and her friends left their church building for the actual city of God; the crowded dollar stores, beauty shops, hospital waiting rooms, street corners and fast food joints of her neighborhood.  They marked the forehead of neighbors and strangers, sharing blessings with waitresses and drunks, believers and doubters alike.  As the story unfolds Sara reflects on her life in San Francisco over the last two decades, where the people of God suffer and rejoice, building community amidst the grit and beauty of the streets. –from the jacket
I just found it was a fascinating look at San Francisco and the meaning of faith and life in this complicated and wonderful city of San Francisco.  It is an easy read yet I found myself savoring a line or delving into an image she presented.  It is just a great read.  I look forward to discussing it with you.  Copies will be available in coffee hour for $15.00 each.   You can also get it on your Kindle, Nook or though the public library.

Peace, Maggi